Poppy Angeloff, a new jewelry brand created by Doe Deere, is heavily invested in flowers as a design element and inspiration. The brand also strives to bring an modern spin on classic Victorian themes to bear in each hand-crafted piece. To add to the sense of tradition here, Poppy Angeloff is yet another fashion line in a historic list to view flowers as worthy of celebration.
While there are other jewelry companies on the market who also center their designs on flowers, Poppy Angeloff currently offers rings exclusively. Let's review the brand and some of its predecessors and contemporaries who love a good floral display. They're all in very good company.
[Flowers are] being presented in a different context than they used to because we're living in such a visual world now. Anyone can kind of style a photo to their liking and just put it out in this really public sphere. Now there's a little more individual personality coming through, and that has allowed for designing with flowers to be seen in a different way … – Brittany Asch, Floral Designer
Doe Deere's Poppy Angeloff
Poppy Angeloff is a new venture that takes makeup brand veteran, Doe Deere, in a slightly different direction. Deere has always been vocal about her passion for color, even incorporating this love as a part of her personal brand identity.
Her makeup brand, Lime Crime, made its name from its commitment to bringing brightly colored makeup to the market. In those days, Deere was associated with bright, unusual hues. Today, in her latest venture, she opts for more natural tones but retains a love of saturated, rich color executions.
I like to think of Poppy Angeloff as the next step in my evolution as an artist and entrepreneur. – Doe Deere, Forbes
The newest expression of this interest is evident in her jewelry designs. From realistic interpretations of flowers to classical Victorian style rings, Deere creates a fresh take on a timeless theme in fashion.
The brand's visual story is plucked straight from the turn of the 20th century. Deere is inspired by everything the Victorian Era has to offer from the sentiment that drove trends to the aesthetic itself. In turn, this inspired an interest in the longevity that good craftsmanship bestows on a creation and what that means for collectors.
As a long-time collector of vintage and antiques, I've come to appreciate the level of thought, detail and craftsmanship that went into the beautiful things I'd collected. I found myself wanting to invest in things of higher quality more, and minimize my contribution to the throw-away culture of today's fast fashion. My ultimate dream is to offer heirloom quality jewelry at affordable prices that you will want to keep, wear, and maybe even pass on to your daughters one day. – Doe Deere
Poppy Angeloff exclusively makes rings, mostly featuring gemstones that were popular during the Victorian period and settings to match. The brand's signature design, however, is an absolutely stunning replica of a pansy flower.
Pansy flower as an expression of love goes back to the Victorian times. A gift of pansy meant 'think of me, remember me.' Today, pansy means unforgettable — after all, who could ever forget a girl with a pansy on her finger??
Each pansy ring is meticulously hand-crafted out of solid gold & hand-painted by an enamel artist, making every one as unique as in nature. Delicate rope band wraps around the finger to support the flower head. Droplet of white sapphire adds sparkle and crowns the pansy. Darling, you are indeed… unforgettable! – Poppy Angeloff Website
The Pansy ring comes in two settings, one silver and one gold. The ring is hand-painted enamel and comes in two color themes. One is different gradients of purple while the other is predominantly white.
The latest interpretation of the pansy is an even smaller version, called The Mini Pansy, the ring has the same stunning detail as its larger sisters in a diminutive 1/2 inch diameter.
Fun fact: Pansy as an expression of love goes back to Victorian times. Derived from the French pensée ('thought'), the gift of pansy meant 'think of me, remember me'. Today, it means simply: unforgettable. After all, no one forgets a girl with a pansy on her finger. – Poppy Angeloff Website
The brand's Instagram page is similarly laden with flower images and various discussions about the natural beauty in the world and gemstones.
My whimsical line of designer jewelry was inspired by many things that are dear to me. My obsession with the magic and power of color is one. I love designing with color because I believe it can transform, lift you up when you're feeling down, tell a story… To me, gemstones and makeup aren't all that different: both are small luxuries that can bring big smiles! – Doe Deere
Victoria Walker's Kinetic Jewelry
I was intrigued by the contrast between flowers and their strong protective pods. I wanted to see if I could combine both elements in a single piece of jewellery and Lotus Locket was the first one I made whilst studying my degree in jewellery making in 2008. – Victoria Walker, Just How Cool Is That?
Victoria Walker is a professionally trained designer whose work revolves around nature an interest in creating what she calls "kinetic jewelry." She was born and grew up in Cumbria, England and moved to Cornwall in 2002. She studied Fine Art and Illustration and eventually took an interest in making jewelry.
She slightly changed her course of study and graduated with a BA in Silversmithing and Jewelry from Truro College in 2009. She received a Goldsmiths' Company Precious Metal Bursary award for her innovative designs. By that time, she already knew she wanted to design jewelry that trembled with energy.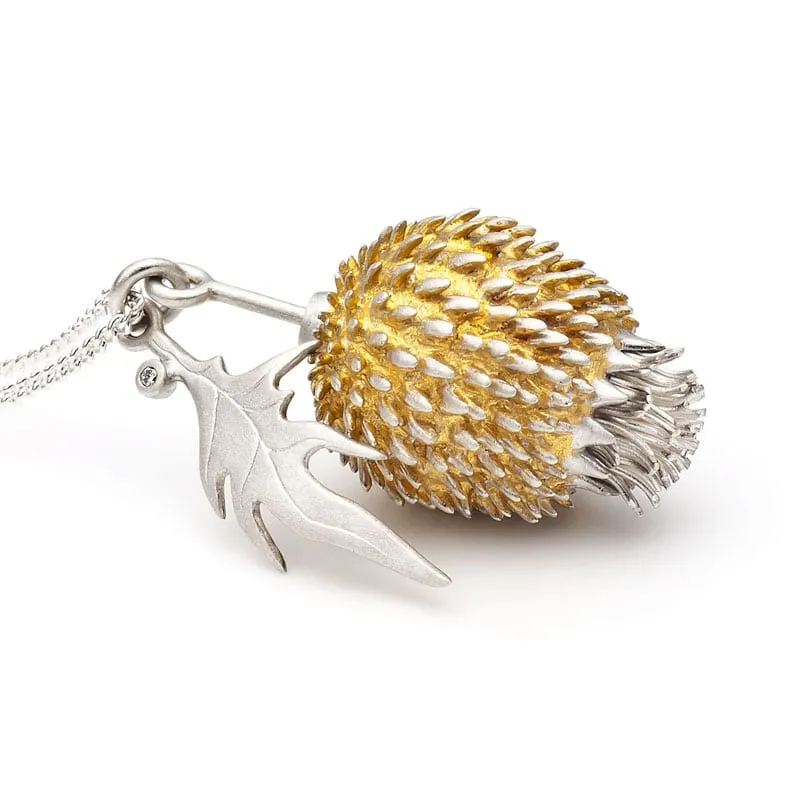 The kinetic nature of her designs involves their movement. They are structured like traditional lockets but hold something different than a photo inside. The flowers open and move to reveal what Walker calls a 'secret' inside that only the wearer can reveal.
Walker relates that her work is influenced by the beauty of natural forms and this is obvious with one look at her designs. They are miniature articulated flowers created to accurate scale, but as small as she can make them. With some manipulation, they open just like real blossoms.
She finds it a worthy challenge to translate the essence of flowers into a moving piece of wearable art.
Alongside the fascination with flowers, Walker shares another similarity with her contemporary, Deere. That similarity is a touch of Victorian flair. Walker's website explains that her necklaces are influenced by the sentimental nature of lockets.
Lockets hold something precious inside, out of view. These types of pendants gained extreme popularity during the Victorian era. Likewise, the Victorians had a great interest in the natural world and often reflected this interest in their fashion and home decor trends.
Prince Albert famously gave Queen Victoria a locket bracelet with a lock of hair from each of their children inside. Victorians followed Queen Victoria's fashion sense keenly, and popularity of lockets surged.
After Albert's death, Victoria always wore a locket containing a photograph of him. This sparked an enormous craze for mourning lockets, which replaced the earlier fashion of mourning rings. It was during this period that lockets came into common use gifts at funerals.
The Elizabethan lockets that came before cost so much that that only nobility and aristocracy could afford to purchase them. Cheaper manufacturing techniques developed during the Victorian Era meant that nearly anyone could afford to buy mourning lockets. This increased their accessibility to all members of society.
This popularity continued right up to World War I, when soldiers would leave their loved ones with lockets that contained their photo or a lock of hair. These keepsakes are deeply rooted in popular culture and still desirable today.
Walker's updated take on this theme is fresh and appealing.
Although their designs, and probably personalities, are very different, Walker and Deere also share a similarity in how they live. Walker resides in an English mansion from the Georgian Era, while Deere recently created her own dream home lovingly designed and furnished with a floral overload of vintage Victorian pieces.
Both designers have an appreciation for nature's creations and reflect that in their work.
Dior's Enduring Floral Fascination

Any Christian Dior brand loyalists know the designer's longstanding relationship with flowers. In fact, they always cropped up in his work in one way or another. It's possible that they were his one true love, an uncomplicated piece of bliss that he identified with since childhood.
Dior's love of flowers and plants grew from his parents' garden where he spent a great deal of time in his childhood. He loved to research plants and work in the garden, often designing layouts and decorative structures like pergolas.
In turn, the flowers and plants with their tantalizing colors and smells cultivated something in Dior as he cultivated them in practice. He soaked in all of the sights and smells to later use in his legendary fashion line. He shared a special relationship with his mother who grew the garden in the first place. It was a lasting connection between the two of them. It was also an interest that seemed to ground Dior. He turned to his garden when he needed to get away from the world, relax and replenish himself.
From his very first fashion show, Dior heavily incorporated flowers. He constructed a lush greenscape that highlighted his designs and melded perfectly with the scents he displayed. Tropical plants greeted both attendees and critics as they arrived, setting a tone for the exhibit.
His favorite flower was the rose, something that Doe Deere actually shares in common with him. It's no surprise that people with a keen eye for perfect design would favor this delicate, refined bloom and what it represents.
Dior was both an artist and an innovator who changed the post-war aesthetic. While doing so, he also injected new life into the fading French fashion industry, restoring Paris as the capital of high fashion.
France had suffered through the war's imposed austerity which created clothing and textile shortages rationing. Female fashion suffered as a result, devolving into long jackets, squared shoulders, and narrow knee-length skirts in dull colors.
Dior had a keen instinct for the pulse of France and the fashion industry, sensing a hunger for color, glamour, and femininity. He was able to conceptualize this into designs that literally changed the face of fashion. His designs were classic but also sensual, something the post-war world both wanted and needed.
Dior's revolutionary creations were inspired by nature's own ornaments: flowers. His first show and those to follow featured floral motifs in the cuts, colors, embroideries, shapes, lines, fabric textures, and prints. He translated the shape of flowers into his dresses in new and fresh ways.
After woman, flowers are the most lovely thing God has given the world… I design clothes for flower-like women. – Christian Dior, Autobiography
After his success, he often sought solace in the earth and remained an avid gardener all his life. He was reportedly just as comfortable in his humble gardening attire as the height of couture. He grew fruits and vegetables as well as ornamental plants, all with ease and a peaceful passion.
In his later years, he poignantly related just how much peace his plants and flowers brought to him.
I could go right back to my roots and discover, in another climate, the closed garden that protected my childhood (…) and finally live peacefully, forgetting Christian Dior and becoming Christian once again. – Christian Dior
In addition to being important in his personal life and as accents at his fashion exhibitions, Dior featured flowers in his designs themselves. The examples are countless, but few as striking as his Fête Joyeuse, Evening Dress. The brilliant, classical gown is almost monochromatic with a simple yet large bloom at the waist of the dress. Its green leaves are the only contrast.
Roy Halston's Orchid Obsession

I think people are born for their destinies. Certain people are gifted to use their hands, or voices or minds. I'm fortunate enough to be such a person. – Roy Halston Frowick
Roy Halston was a flamboyant and sometimes controversial figure but known as one of the best fashion designers America ever produced. He was a designer to the stars and two First Ladies and had an absolute passion for white orchids.
He was born in Iowa and his rise to true fame happened in New York in the 60s and 70s. At 1958, he arrived in the Big Apple from Chicago, where he had been working as a hat designer in a hair salon. Not long after he arrived, he met longtime mentor and eventual bitter enemy, Charles James. James taught him many things, including an extravagant taste for expensive flowers.
Halston was known to spend six figure sums on white orchids at the height of his career. They were not only his favorite flower but his trademark bloom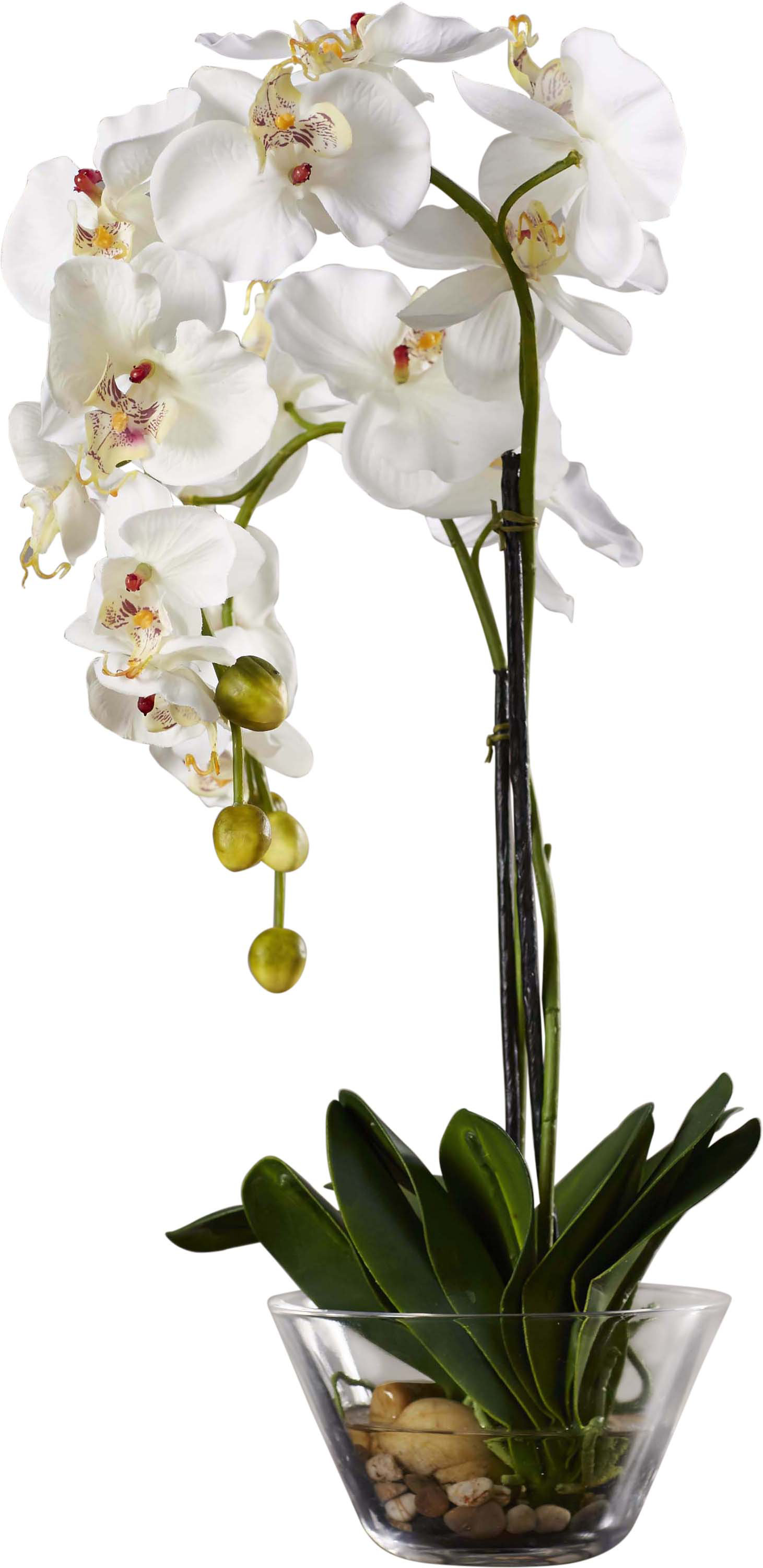 He famously designed hats for Jackie O, which he would try on and model before sending to her. Coincidentally, they had the same size head. His work with the iconically stylish First Lady catapulted him to star status. He went on to work with some of the most renown names in the fashion world. Catherine Deneuve, Alexis Smith, Bianca Jagger, Ali MacGraw, Liza Minnelli, Raquel Welch, Anne Ford, and even Mrs. Richard Nixon were customers at his salon.
His penchant for parties and his extravagant home became as well-known as his designs. He had a very particular aesthetic that friends remember well. The same stars he dressed would often show up at his high-rise townhouse to languish the night away.
There was always music playing, Rigaud candles burning and orchids everywhere. – Pat Cleveland, The New York Post
Although Halston's designs themselves weren't always floral, but he was clearly inspired by the beauty of flowers in his personal life. One of the most frequent things one hears about this famous designer is his love for those simple, elegant white orchids.
Nature's Eternal Design Theme
Flowers are mother nature's accessories and it's no wonder so many designers draw inspiration from them. Whether their designs directly reflect this, like the work of Doe Deere and Victoria Walker, or whether designers appreciate the serene beauty of flowers like Dior and Halston, flowers are an eternal design theme.
This makes them a safe bet for fashion lovers, because this type of aesthetic will always be in style. They sometimes get a fresh makeover or are interpreted in new ways, but they are the true definition of timeless.
All we have to do is look around our sometimes tedious world and we are reminded to stop and, literally, smell the flowers.
Contemporary designers like Deere and Walker are just two of a long line of fashion artists working in petals and sepals. More are sure to come as many fashion trends come and go, but flowers seem to endure.
Want to learn more about the start of Poppy Angeloff? Read our article here!